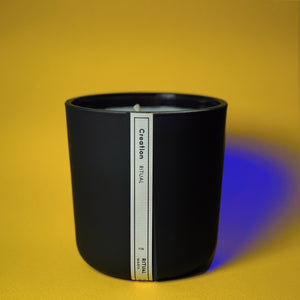 Creation | Yin (8 oz)
A commanding scent of close-up citrus in both stem and fruit.
Myrrh to keep you dreaming. Oakmoss to keep you grounded. Designed to keep you present, to set you free to help you create. An hourglass standing still. 
Notes: Elemi, Lemon Verbena, Ruby Grapefruit, Black Currant Bud, Myrrh, Oakmoss.
8 oz. in Black Matte Ceramic.
Reusable vessel. Send back for 25% off your next candle.