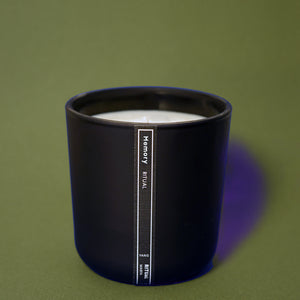 Memory | Yang (8 oz)
To remember is to feel. Remember that time you walked through the forest and you were feeling it all? When the sun had used up it's rays on the bark of your favorite trees allowing the truest sweet pinyon to be released into the air? Light the candle, give yourself the permission to reminisce. Remember when things were calm. When you were surrounded by the warmth of your best self. Your loved ones. Here and gone. The sense of smell is closely linked with memory, probably more so than any of our other senses. 
Notes: Sugar Pine Bark, Pinyon, Sweet Myrrh, Texas Cedar, Tobacco Leaf, Vanilla
8 oz. in Black Matte Ceramic.
Reusable vessel. Send back for 25% off your next candle.