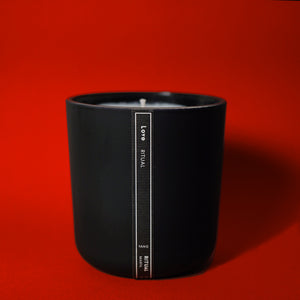 Love | Yang (8 oz)
Love should be almost invisible. Clear, like breathing.
Challenging at times, but dizzying with inspiration. It's everything. Here, to help you love yourself or one another, a sophisticated blend of bay leaf and tonka bean. A modern fougere nuanced by the ancient allure of wild lavender and cedar. 
Notes: Bay Leaf, Fougere, Tonka Bean, French Lavender, Star Anise, Cedar.
8 oz. in Black Matte Ceramic.
Reusable vessel. Send back for 25% off your next candle.